Apr. 13, 2021
In this article, we want to perceive more about the latest building materials. Aluminium Composite Sheet known as ACP are products that are widely used all over the world. In the architecture industry, ACP is one of the most commonly used materials. But what is ACP? It consists of two aluminum sheets attached to a non-aluminum core. They are also straightforward to install and simple to make shapes in facades and designs. Aluminum composite panels have some unique features that make their use affordable, reasonable, and logical.
One of the most unique features of aluminum composite panels is their weight. ACP is lightweight compared to other industry materials. This feature has made it possible to use Aluminum Composite Panels for a variety of usages such as road signs and even in the aircraft industry. Here are the advantages of ACP panels: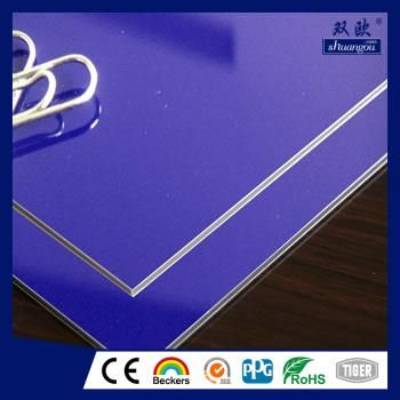 Aluminium Composite Sheet
Are aluminum composite panels fire resistant?
Using this product in tall buildings and towers in case of fire can be very helpful. In other words, aluminum does not burn; therefore, manufacturers have used it and optimized this feature in their asbestos products. Indeed, only in one case will aluminum melt at temperatures above 650 C. All the resulting materials and smoke from the fire are not dangerous for the residents of the buildings and the environment. The non-flammable materials and low combustion can give firefighters and rescue teams more time to save buildings and residents.
However, there is an important issue regarding the core material. The difference between PE and FR core elements relates back to their fire behaviors. PE cores which are made up of polyethylene can spread fire very quickly. Therefore, the use of PE cores are advisable in interior designs. For more information, you can check Polyethylene Core Aluminum Composite Panels.
However, the Aluminium Composite Supplier have provided other options. For instance, there is a possibility of using aluminum composite panels with FR cores. Therefore, by applying FR cores, ACM panels will not be vulnerable to fire and do not spread them. As a result, they are mostly applied in exterior usages such as ACP cladding.
Convenient and hassle-free maintenance
You can remove dust and dirt from the panels without any special maintenance, unique materials, and detergents. You can use a clean tissue. In areas where pollution is not demanding, you better try to clean the panels once a year. Another used feature of these is anti-dust and anti-dirt for high-rise buildings. Moreover, if you use PVDF as the main coating material, there will be a possibility of the anti-dirt solution by using Nano coating. Therefore, you will have a variety of options and it is always advisable to contact your manufacturer for more information.
Flexibility in color and design:
Clients need to choose the color that is most similar to the predefined color, which is usually not quite the same. Aluminum composite panels solve this problem. Also, you can choose products that mimic the natural texture of wood and metal. These models are popular both in terms of beauty and natural design. For example, you can select a wood pattern for your wall garden.
There are various color options available to clients. The first one is the solid colors which are simple colors with outstanding beauty. Another option is corporate colors which are usually suggested to people in business who want to have their own unique set of colors. Finally, there are customizations where individual textures and designs can be implemented.
Durability and high strength of aluminum composite panels
Plastic and metal that are used in the panels have made these products durable. ACP panels are highly resistant and do not change their shape, especially in harsh and tolerant climates. They also maintain the quality of their paint. This is proven in all the buildings that have been decorated with ACP panels. Also, they are resistant to corrosion and have a lifetime of 40 years in harsh conditions. For more details, you can check our other article about ACM sheets.
Economical
Aluminum panels are one of the most cost-effective building materials available. The high quality and the low initial manufacturing cost make its purchase very delightful for homeowners. Homeowners could use these materials for better saving. This is because it saves energy and gas, as well as less energy, especially in countries where the temperature is often cold, such as Canada.
Lightweight
Although the weight of these panels is low, they are firm and durable. The weight of these panels is one-fifth of the rest of the building materials.
Conclusion:
Most of these panels can be ordered and selected according to the area used and the required features. Besides, most of these panels are fire-resistant. Many of the famous architectural facades have used these panels, such as the VanDusen Botanical garden in Canada. ACM panel is widely used worldwide, making it one of the most commonly used building materials in architecture. For your next project, don't forget to choose an Aluminum Composite Panel. Our expert team in Canada is available anytime. You can call us without any hesitation.